Overview
CASA FAMILIAR
A COMMUNITY DEVELOPMENT AGENCY
---
CCDC Grant Report
Emergency Senior Support Services July-September 2020
After Casa Familiar (Casa) received an initial small grant of $1,000 in May 2020 to support emergency services for seniors during the pandemic, a second round of funding was awarded from Community Congregational Development Corporation (CCDC) in July 2020 in the amount of $26,352. Over half of this second round of funding ($15,000) was earmarked for direct financial assistance to seniors having difficulty paying bills due to the pandemic. The rest of the funding went to continue providing emergency services to seniors in the community including food assistance and connection to local resources.
Outcomes
This second round of funding from CCDC made it possible for Casa to provide the following emergency senior support services between July-October 2020.
Food assistance: Weekly hot meal delivery to seniors in San Ysidro
720 meals were provided to seniors over the course of 12 weeks, 60 meals per week
Recipients included formerly homeless seniors who recently moved into the newly built San Ysidro Senior Village permanent supportive housing complex and low-income seniors living in the surrounding neighborhood.
Meals were provided by local, family-owned restaurant, El Rincon. They were traditional Mexican dishes, prepared with the health of our seniors in mind. Funding helped support this small business, whose generosity started and sustains the meal delivery.
Casa staff deliver the weekly meals door-to-door and use the opportunity to remain connected with our senior clients and check-in on their well-being
Connection to local resources: Delivery of printed newsletters
3 editions of Casa's bilingual printed newsletters were created to help provide
digitally disconnected seniors with information about available local resources
A total of 1,260 newsletters were distributed
180 newsletters were hand delivered to seniors along with their weekly meals
680 newsletters were mailed out to seniors living the South Bay registered in Casa's client database
400 newsletters were given out during local food distribution events
See the English side of the newsletters for July, August, and September below.
Newsletters are printed in large format on 11"x17" paper for easy reading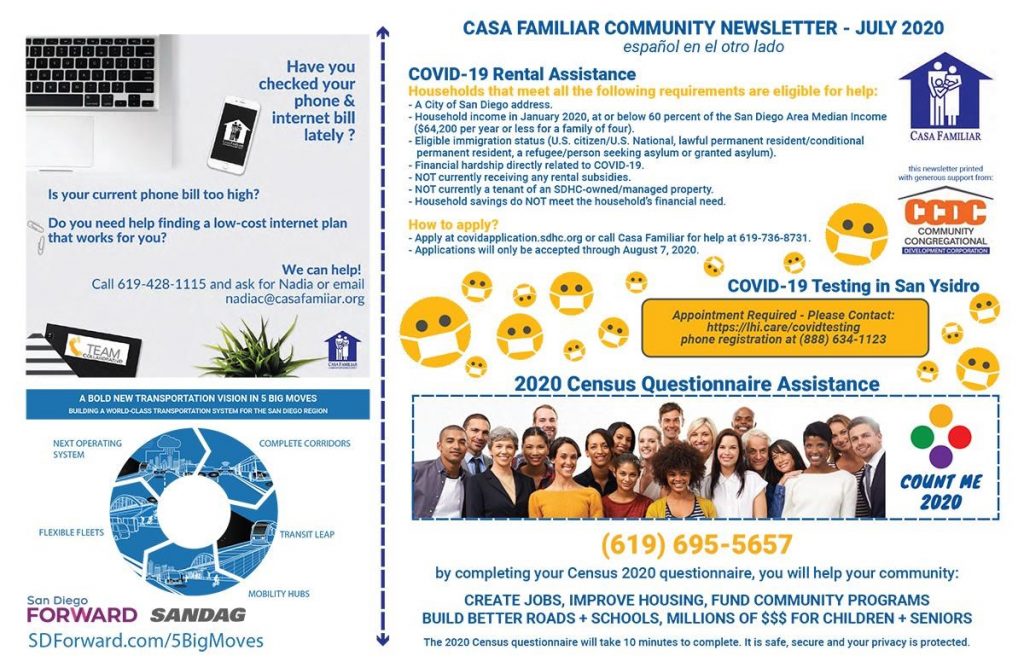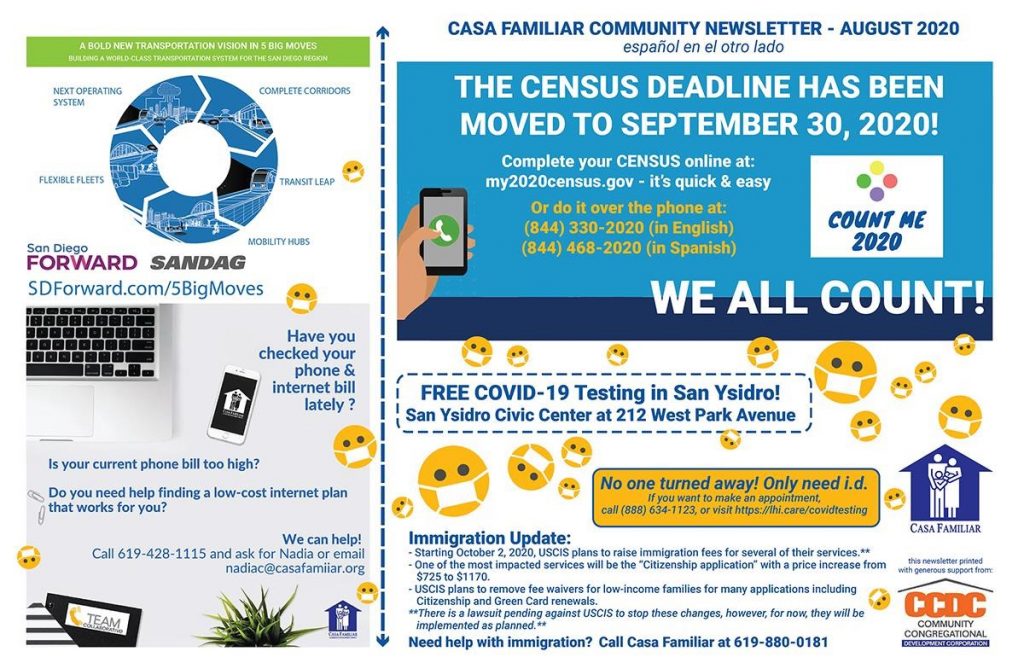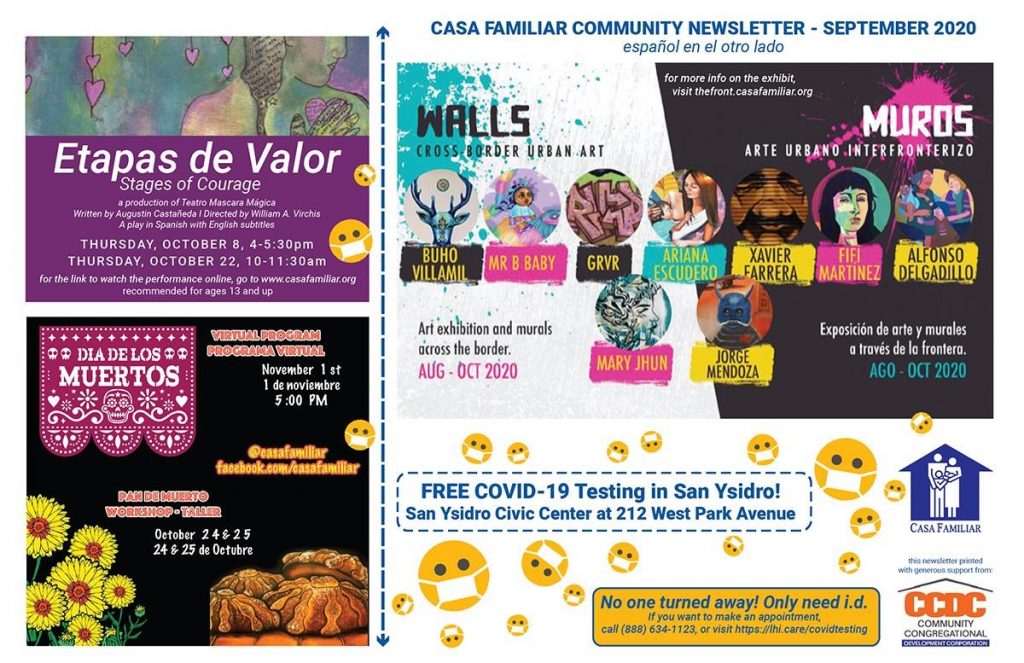 Rental/Utility Assistance: Direct payments to help seniors in need pay outstanding bills
Financial assistance was provided to a total of 34 low-income seniors living in the South Bay including
o Rent assistance for 21 individuals
o SDGE past-due bill payment assistance for 4 individuals
o Car repair assistance for 3 individuals
o Auto loan payment assistance for 2 individuals
o Medical bill assistance, hearing aid purchase, credit payoff assistance and food expense assistance each for 1 individual
Along with the direct financial assistance, individuals received help with budgeting and financial coaching from Casa's Financial Opportunities Center
A total of $15,000 was given out in direct financial assistance thanks to CCDC
Conclusion
With this second round of funding from CCDC, Casa was able to support over 1,000 seniors in the South Bay with either food, connection to resources, or direct financial assistance. We were also able to give back to CCDC by helping get our senior program participants to fill out CCDC's needs survey.
The budgeted funding for food assistance ran out at the end of September. Since that time we have continued delivering weekly meals, but had to decrease from 60 to 20 individuals. The local restaurant, El Rincon, is donating the meals and Casa is donating the staff time through the end of the calendar year. Casa continues to produce bilingual newsletters on a semi-monthly basis. Newsletters are distributed at food banks and throughout the community, but not mailed out to individual households. Lastly, Casa continues to support low-income seniors with financial coaching, applications for government benefits, and connection to financial assistance whenever available.
We thank CCDC for their support of our programs and the seniors in our community. In 2021, Casa looks forward to continuing to support seniors living in isolation through innovative and culturally sensitive programming. This will include starting up as the new on-site service provider at two low-income senior apartment complexes in San Ysidro with a total of 160 units. We hope to continue collaborating with CCDC to provide much needed programs to seniors in our community.